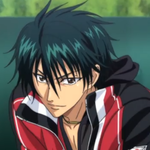 Name:
Echizen Ryoga
Birthday:
December 23
Position:
1st-3rd Year
Playstyle:
All Rounder
Dominant Hand:
Right
Personality:
Ryoga has similar personality traits like Ryoma. He, too, is cocky and arrogant, but overcomes it by his dedication to tennis. Ryoga is shown to be like a big brother to Ryoma (though their true relationship in the movie was not clear). He shows some protectiveness over Ryoma. Ryoga has a love for oranges and has been shown to even eat them without peeling them. Ryoga is almost always seen with an orange when off the court.
Likes:
Oranges, Orange Chicken Saute
Hobby:
Napping and searching for tasty oranges
Quote:
'Mada mada daze.'
Other:
Even though he was abroad, he is bad at English and hates to speak it. Even while in America, he did everything in his power to only speak Japanese.
VA:
Yamazaki Yuuta (Movie)
Miyano Mamoru (SPoT OVA)