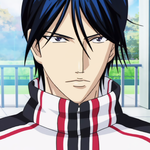 Name:
Tokugawa Kazuya
Birthday:
July 27
Position:
Second Year
Playstyle:
All Rounder
Dominant Hand:
Left
Personality:
Tokugawa like Tezuka, rarely shows any sort of emotions in his facial expressions and Tokugawa is yet to be seen smiling.
Likes:
Traditional Japanese Food (Especially Natto), Protein, Tea
Hobby:
Yachting and Snowboarding
Quote:
'Do you want to go home?'
Other:
Tokugawa has been living abroad since he was 5 years old.
VA:
Ono Daisuke